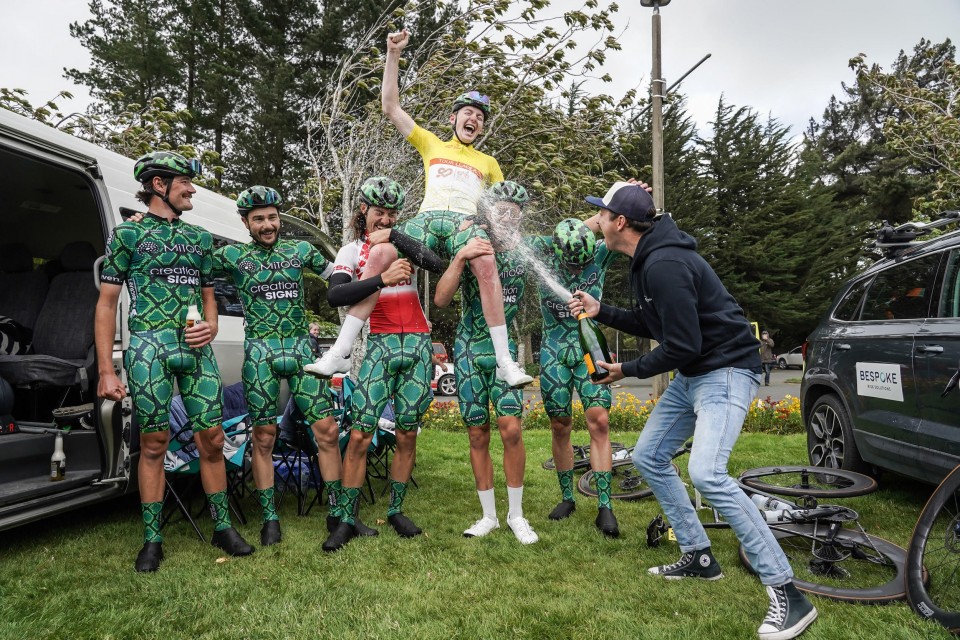 Southland's Josh Burnett has become the first local rider since 1994 to win the SBS Bank Tour of Southland.
Burnett (Creation Signs-MitoQ) started the final 77km stage from Winton to Invercargill with a 43sec advantage over Australian Carter Bettles (ARA Pro Racing Sunshine Coast), with leading under 23 rider Josh Kench (Powenet) trailing by 56sec in third place.
While the pace was fast and furious in the crosswinds over the final stage, there was no denying the 22-year-old Burnett a piece of history, with those same margins remaining to the finish.
"It's special, but I've said special probably a hundred times this week," Burnett said. "I don't actually have the words for it yet. It's going to take a long time to sink in."
Ironically, the Southlander who last won the Tour of Southland, Doug Bath in 1994, also sold Burnett his first bike.
Bath was more than pleased to pass on the torch to the 22-year-old.
"Josh is such a special kid and such a special bike rider. To be honest this is a record that should have gone a long time ago. There are lots of really cool bike riders from here that have gone close in the past, but it just hasn't worked out."
Earlier, Burnett started the day with just an 8sec lead over Bettles, but smashed out an outstanding 13km individual time trial around Winton.
Riding just his second ever 'race of truth', Burnett even surprised himself.
"I knew I was going fast for me, but I had no idea how it compared to anyone else. When I crossed the line and someone told me I'd won, I didn't think I'd heard them properly. It's pretty surreal."
The final stage saw the peloton reach speeds of 60kmh as they raced for home with James Krzanich (Transport Engineering Southland-Deep South), Glenn Haden (Couplands-Booths Group), Paul Odlin (Powernet) and James Harvey (Spoken Cycles) managing to sneak away and hold their lead all the way to the finish line.
Harvey claimed a sprint win in Gala St, with Krzanich winning Most Combative honours.
A strong finish by Burnett's team mates saw Creation Signs-MitoQ edge ahead in the teams classification, while Nick Kergozou (Transport Engineering Southland-Deep South) managed to hold onto the Sprint Ace jersey by the barest of margins.
Capping a great week for Creation Signs-MitoQ, George Jackson won King of the Mountains honours, while Joe Cooper (Central Benchmakers-Willbike) was the tour's leading over 35 rider.