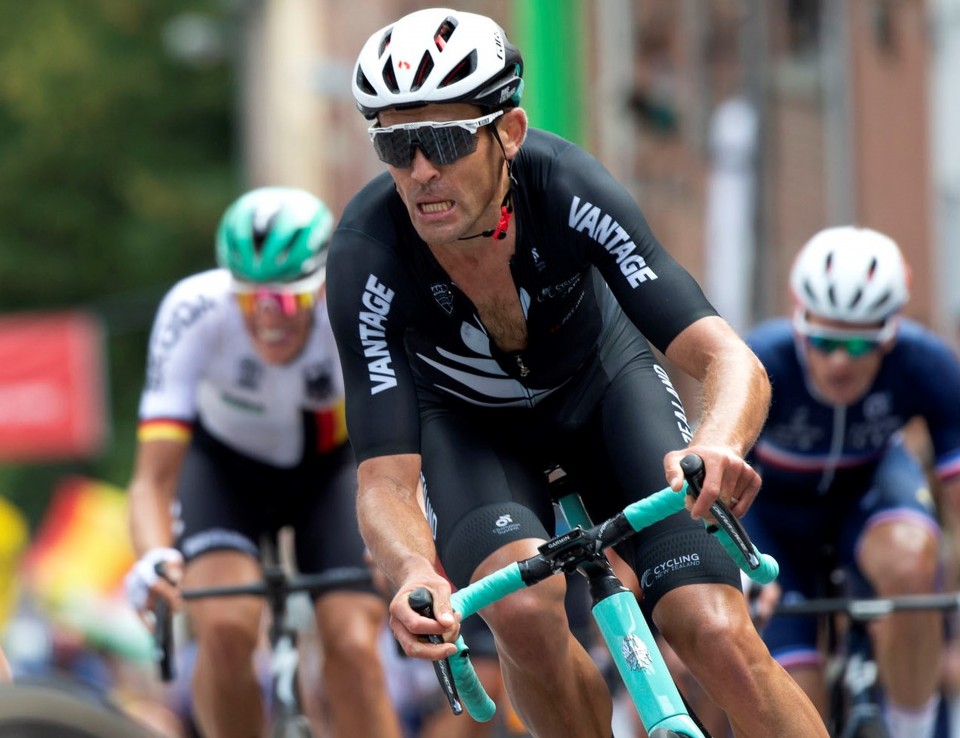 UCI ROAD CYCLING WORLD CHAMPIONSHIP – VANTAGE NEW ZELAND TEAM WRAP DAY 6
The Vantage New Zealand men's quartet were unable to dent the sport's elite in cycling's version of the fast and furious at the UCI Road Cycling Championships in Belgium.
French superstar Julian Alaphilippe made a series of attacks in the closing stages around the streets of Leuven, finally breaking clear and riding solo over the final lap to retain the rainbow jersey with a remarkable display amid massive crowds.
He bided his time after a well-executed French team plan over the 268km course that featured 40 climbs of short punchy efforts around the 15km Leuven circuit to bigger tests on a 50km loop through the Flanders countryside.
Such were the demands of the Belgium course and the power and speed from the leaders, that only 68 of the 198 riders finished, with the four-strong Vantage New Zealand men among the many who did not finish. Leading them was veteran Jack Bauer, who was in a group withdrawn two laps from the finish, joining teammates Tom Scully, who was brought down earlier in the day, Shane Archbold and Connor Brown.
"We did not get much luck today," said director sportif, Craig Geater. "The plan was for Shane to go with a break and he only just missed it. Tom was a key for us but he was run into from a rider behind, and by the time we got a new bike to him, he had lost too much time to get back on.
"Connor is a new young rider who has done well in his first season on the WorldTour. He ran out of legs after 140kms but did his job. We were left with Jack who is having a great season. He dropped to the back of the leading group to sort his food and at that time the peloton split apart and he was unable to get back to the front.
"We ride these roads in other big races without incident but at the world championships everyone goes mad and there was some crazy stuff today which was a pity."
Today's race brought the curtain down on a week of quality performances over the fabled roads of Flanders, a region ingrained in road cycling, with some strong performances from the rising New Zealand talent.
"We are improving every year and moving in the right direction. We have some really excellent young riders developing really well and benefitting from getting in World Tour teams in Europe," said Geater.
"The under-23 boys rode perfectly to plan and we have received lots of positive comment about them, and the women also did things well. We are improving although our riders are not yet in the position with their pro teams to get the time to focus on a world championship or Olympics preparation."
Today's race started with a 50km stretch from Antwerp to Leuven, home to the major Flemish university. The race was a mix of 10 laps of a 15km circuit with short, punchy and twisting climbs in Leuven with two bigger 50km loops with tougher climbs in the Flanders countryside.
A select group of 10 pushed off the front as they neared Leuven including Belgian hope Wout van Aert, fellow cyclocross world champion Mathieu van der Poel (NED) and Olympic mountain-bike gold medallist Tom Pidcock.
Alaphilippe tried three times before a fourth furious attack produced the break, holding at 10 seconds before the bungy cord snapped on the final lap as the Frenchman celebrated a second successive title.
There are plenty of prospects for the New Zealand riders, and hopes for an improved covid environment in 2022 with the championships slated for the coastal city of Wollongong, south of Sydney, next September.
Results, Elite men road race (268kms): Julian Alaphilippe (FRA) 5:56.34, 1; Dylan van Baarle (NED) at 32sec, 2; Michael Valgren (DEN) same time, 3.
CAPTION: Jack Bauer of Vantage New Zealand team in action at the UCI Road Cycling Championships in Belgium. (Photo Credit: Casey B Gibson).