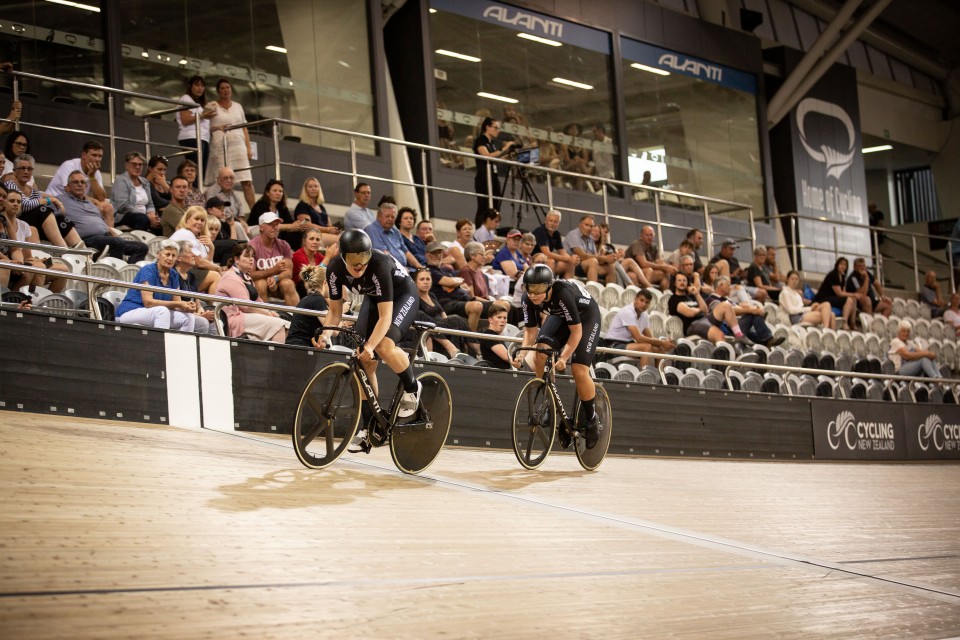 Following over a year of consultation with our centres, clubs and members, Cycling New Zealand Road & Track are excited to confirm updated formats to their two key national track championships.
From 2022, U15 and U17 riders will now be competing at the Track National Championships with the U19 and Elite riders while Masters riders will now have their own competition.
Both of these events will be annually rotated between the two indoor velodromes in Cambridge and Invercargill.
The Masters Track National Championships will be held over three days (3rd – 5th March 2022) in Invercargill with the expanded Track National Championships to be held over five days (15th – 19th March 2022) in Cambridge.
The inclusion of the U15 and U17 riders at the Track Nationals provides a visible pathway for our junior riders as they compete alongside their elite peers. The separation of the Masters event provides the opportunity to include an individual sprint competition which has been advocated for a number of years since its demonstrated popularity at the World Masters Games in 2017.
Cycling New Zealand Road & Track President, Erin Criglington is excited to be able to confirm the new formats after strong engagement from the track community; "we have consulted significantly on these changes and now look forward to the sport supporting the new formats which should improve the offerings for our members at all ages and stages of their track cycling journey. We particularly look forward to seeing more of our masters riders support the new format for the chance to gain recognition on the national stage".
Cycling New Zealand High Performance Athlete Development Lead, Graeme Hunn endorses the decision to include the developing riders in the elite competition framework; "this brings all of our aspiring young riders onto the same stage as our high performance riders creating a visible rider pathway. The length of this new programme supports these young riders to take part in a full programme without compromise".
Programmes for all events to be confirmed closer to the dates.
The full 2022 Cycling New Zealand National Championships Track Calendar is:
Vantage Cambridge 3 Day (including Elite and U19 Omnium and Madison Championships), Cambridge; 17th - 19th December 2021.
Masters Track National Championships, Invercargill; 3rd – 5th March 2022
Track National Championships, Cambridge; 15th – 19th March 2022 (includes the U17 Madison)